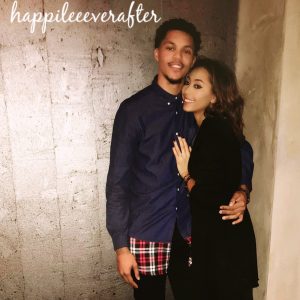 Well, obviously my next post will be about the latest, HUGE, step I've taken in my life. I AM ENGAGED!!
I am going to paint the picture and tell the story as best as I can about how a "normal night" turned into a dream come true.
Honestly, I am having a hard time even writing this because I am still on a love high and can't even think straight. Damion did such an amazing job thinking and planning this whole thing. I honestly have the most amazing fiancé (omg omg omg omg omg omg omg omg) in the world.
Okay now that I am done freaking out, here we go!
I want to start this all of with a checklist that I gave Damion of things to be done if he were to ever ask me to marry him (I swear I am not demanding or picky but I mean COME ONE, this is the day that I have been dreaming of since I was a little girl; I've had a lot of time to think about this):
He has to ask my dad for permission
My family HAS to be there (as many as possible and realistic)
I needed to have my nails done
That was it though, just 3 things, super simple!
Has to ask my dad for permission- CHECK!
Damion has been planning this for months! When I went back to Elon for the "Senior Night I Never Had" that's when he asked my mom and dad for permission. Now that I think about it, I really want to know how and when he did that because from my recollection we were together 100% of the time. He so sneaky!!
My family HAS to be there- CHECK!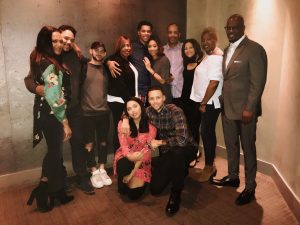 Long story short, Damion tore his ACL last year right before Christmas and so over the last 11 months he has had surgery and has been rehabilitating, obviously not able to play. This past weekend was his first game back from his hiatus so his mother had to come to town to see her baby boy get back to work! As for my parents, November 13th was the opening night of International Smoke so I knew they would be in town because what kind of in-laws would they be if they missed Ayesha's HUGE day!
Nails done?- Check!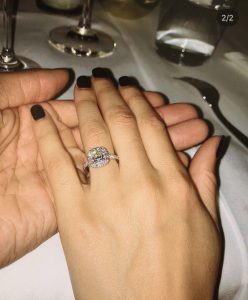 A lot of people have been asking me, "Sydel, you had to have known because your nails were perfectly manicured" and they are not wrong. They were perfectly manicured but there was a reason for that. The prior week was a stressful one, to say the least. I have been having a little rough patch in my life and when I get stressed or my anxiety is high, I bite my nails. So I had successfully ripped 3 acrylic nails off and my hands were looking ROUGH and everyone was telling me. Now with me, I don't always care what my nails look like especially when I am anxious. Damion kept telling me that my nails were not a good look and I needed to do something about them, etc. and I would just be like "eh, I'll get to the eventually," just not paying him mind. And then I remembered that I was seeing his mom in a couple days and couldn't have busted fingers. I need to get myself together, so I got them done.
Alright now for the fun part…
How it all went down
We had plans to go to the city that night. Damion wanted to show his mom International Smoke while no one was there and then we were going to grab a bite to eat afterward. Where? I didn't know until we got there. We ended up going to a family favorite, Michael Mina (if you get the chance and want to go have a great Michelin star meal for a special occasion or something, definitely go there). Anyways, we got there and the whole idea was that it was the first time all of the family was together so we wanted to enjoy a nice meal together. Aside from my parents and Damion's mom being there, Ayesha's parents were there, my brother Stephen and Ayesha were there (Seth lives in Dallas so it was harder to get him there but they made sure he was on call when it happened, literally, thank you to Facetime), Damion's aunt Shiela was there, and one of his best friends Ryan as well. Dinner was normal, all of us enjoying conversation, drinks, great food. I went to the bathroom right before dessert came out and on the way out the bathroom, I ran into Damion's basketball agent who he is close with (Obviously there for the reason I was soon to figure out). Surprised to run into him, I still thought nothing. I told him where we were and that he should come by and say hello! I returned to the table and noticed there were champagne flutes on the table. Now if you know me, I never question why free alcohol is going to be served so I just I smiled and sipped. I was told that we were going to toast to International Smoke and the success of Ayesha.
Damion stands up and begins to talk. You would think that maybe that would make me curious but it didn't. Damion is known to stand and make toasts especially when our family is together but I kid you not, I had no idea what was going on until he was on his knee…okay maybe a couple second's before that. My sweet fiancé prepared a poem for me!
The crazy thing about the poem is that he writes raps/poems and he's amazing with wordplay. I would always joke around with him asking if he'd ever write something about me and he would always say no. But about halfway through this specific poem, I realized that wasn't true because this one was definitely about me. Now I am not going to share the poem because that is something special to us and our family, but I will tell you what he said right before I got down on one knee:
"It's so blah just to ask you to marry me
I'm with you until the end, until they bury thee
Love is nothing to rush, I know you wouldn't hurry me
Would you like to be Mrs. Sydel Alicia Curry-Lee?"
AHHHH I'm still swooning! I then clobbered him and asked him if he was serious, if this was a joke, I mean I said everything but "yes" but that was a no-brainer! 10 min go by and I finally said yes still hugging him to make sure that I wasn't dreaming.
The ring! Lawd he did that. It was everything I could have wanted and more. Princess cut cushion halo. So amazingly perfect.
I can't even begin to explain how excited I am for our future and the next steps. We haven't set a date yet but we do know that it'll be in Charlotte! I can't wait to start planning (we'll get a wedding planner because planning is not my calling in life) and start doing all the fun wedding things soon enough, but for right now Damion and I are going to enjoy each other, being engaged, and these precious moments! Thank you to everyone for all the love sent our way! We are eternally grateful.
Below are some photos from the night! I hope you enjoy!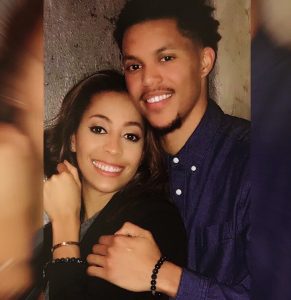 Bracelets @flybynicolemurphy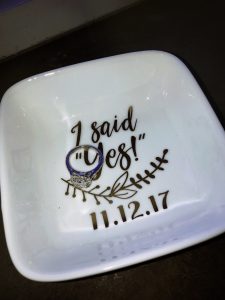 The champagne flutes/coffee mug and jewelry holder from @futuremrsdesigns